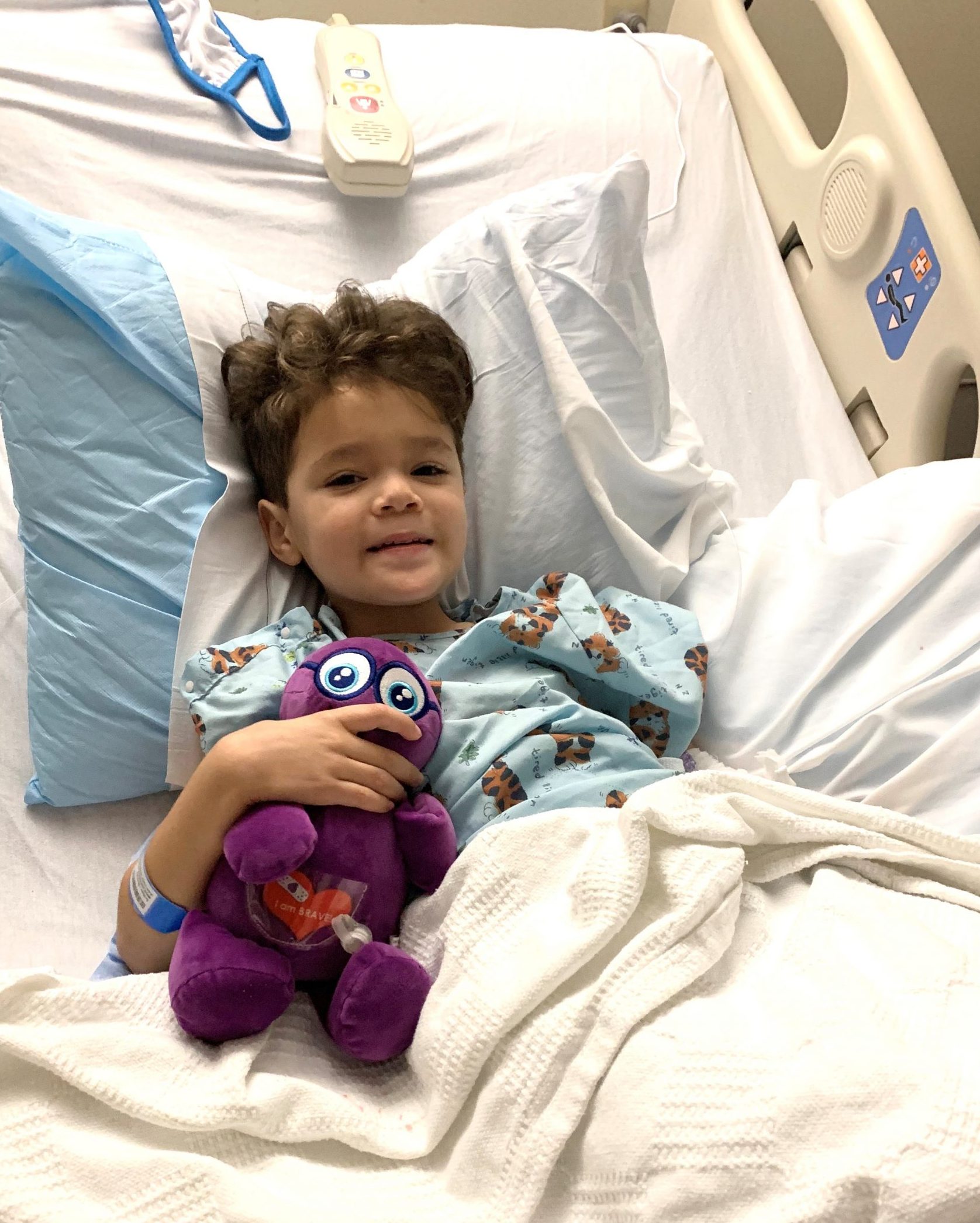 A Mom's Letter of How "Purple Puff" Helped Her Son Be Brave
October 14, 2020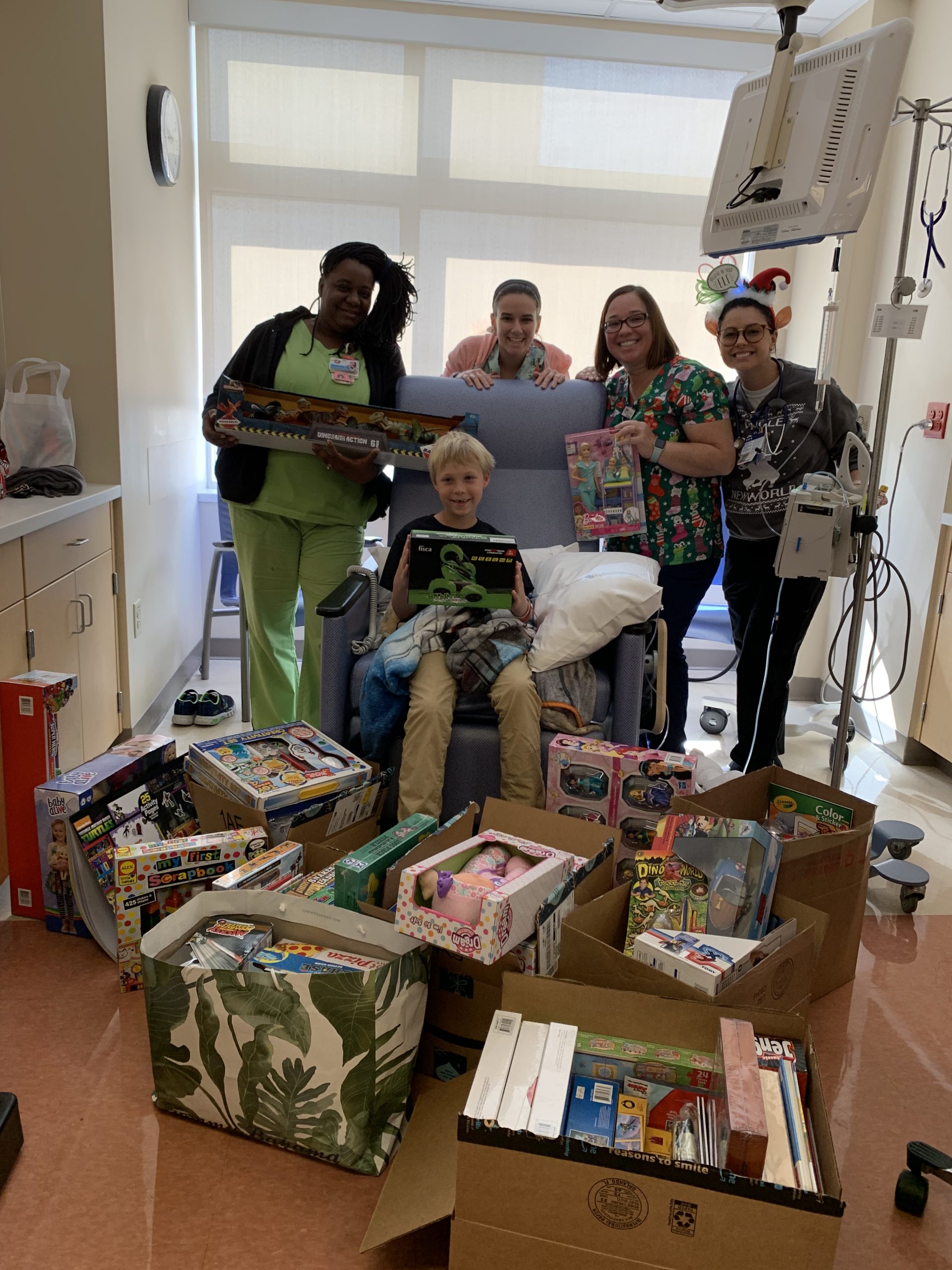 December 2020 – Meet Gavin: He Has a Big Brave Heart!
December 1, 2020
Ava is an18 years old young lady who has been dealing with cancer since she was eight-years-old. When she was very young she was diagnosed with T-cell lymphoblastic lymphoma with ambiguous lineage , and she received nearly three years of intensive treatment of chemotherapy and cranial radiation. It was during this time that she learned the value of "giving back to others" and how it was both an act of kindness and therapeutic. It was then that "Ava's Angels" was born to give back to "Baby Gators" treated at the University of Florida's (home of the Gators) Shands Children's Hospital!
Another young lady with chronic illness, named Hannah, nominated Ava for our Purple Playas' Chronically Caring Kids stories. When they were younger, they often sat together in the infusion room receiving treatment. So when asked, "What do you think of when you think of Ava," she said, "She is BRAVE; Ava's stronger today than her storms."
In 2018, six and a half years after her initial diagnosis of Lymphoma, Ava was considered cured. What she didn't realize was just around the corner she would be fighting intensely hard once again.
At 17 years old, Ava was living with her father for a few months when her next health issues began to arise.  She didn't get an MRI in a timely manner and her brain herniated. This initiated a transfer to the hospital. Then, she was life-flighted to another hospital six hours later, where she arrived unresponsive. However, she miraculously coughed, and they took her immediately into the OR for a craniotomy. During surgery, it was discovered she had a primary tumor, the size of an orange, on her right frontal lobe. The tumor was later diagnosed as glioblastoma. 40% of this primary tumor, caused by her previous cranial radiation for lymphoma, was removed. She was then in a coma for nine days and intubated for 11 days.  The doctors in the PICU didn't expect her to make it.  Once again, Ava found herself in the hospital for the holiday season but this time she was combatting a new cancer: Glioblastoma. This was the second Christmas that she spent in the hospital.
Ava shared that her greatest joy from all that has happened is she has reunited with her mom and siblings. Her mother helped her get back to UF Shands Health for her medical care. Even through all of this hardship, Ava found her joy. She believes this reunification with her mom, brother and sister is her greatest gift!
Ava now deals with lots of hunger, headaches, and fatigue. Currently, her biggest difficulty is that she cannot walk but she will be having surgery very soon to restore her ability to walk! This is her greatest wish!
Ava loves playing games on her phone, chatting with others, and drawing. Her favorite thing to draw is people. Also, she loves her some quesadillas; these really help appease her hunger! What's better than some comfort food, some gaming fun, chatting it up with friends and sharing your gift of art with the world!?!
"Ava's Angels" has been going strong since she was younger. This year, she is working on making it an official 501c3 non-profit. Ava's Angels helps spread the joy of Christmas to children in the hospital during the holidays. They collect toys, items, gift cards, and gas cards for the Christmas Season. Then, they bring them to the hospital to give to kids and their families who are in the hospital for Christmas. Ava knows first hand about long hospital stays during the holidays, so she is passionate about helping others who are going through what she and her family have experienced. When she was young, Ava received her lymphoma diagnosis on Christmas Eve, 2010. When she received her latest diagnosis, she also landed in the hospital for Christmas. Having spent two Christmas holidays in the hospital, she is more committed than ever to her cause.
Ava wrapped up our interview by sharing, "I have been through a lot but that doesn't make me any weaker as a person. It has made me extremely strong."
This Thanksgiving, there are so many people who are thankful for having Ava and Ava's Angels in their lives. If you would like to give to Ava's Angels, we have set up a Purple Playas Foundation (EIN 61-1896617) link for "Ava's Angels". The link will be open through Thanksgiving; please donate funds HERE to help Ava's Angels:   PayPal Donation to Ava's Angels Gift Drive
You can also "Venmo" funds to (Please type "Ava's Angels" in the note):  PurplePlayasFoundation
If you want to donate actual items, PJs, toys, gift cards, or gas cards, please deliver them to Purple Playas Foundation, Ava's Angels Gift Drive, 16608 Lake Heather Dr. Tampa, FL. 33618 by Thanksgiving. We will get them all to Ava to deliver to children in the hospital.
Ava's Caring Bridges Blog link, from when she was originally diagnosed, is below.  Her mom is beginning to update it, so stay tuned if you want to follow Ava's Story:
Do you know an amazing kid with chronic illness who gives back to their community? You can nominate them for our Chronically Caring Kids monthly stories. Just email us at [email protected]