Cindy McDaniel, Welcome to the Board!
July 19, 2021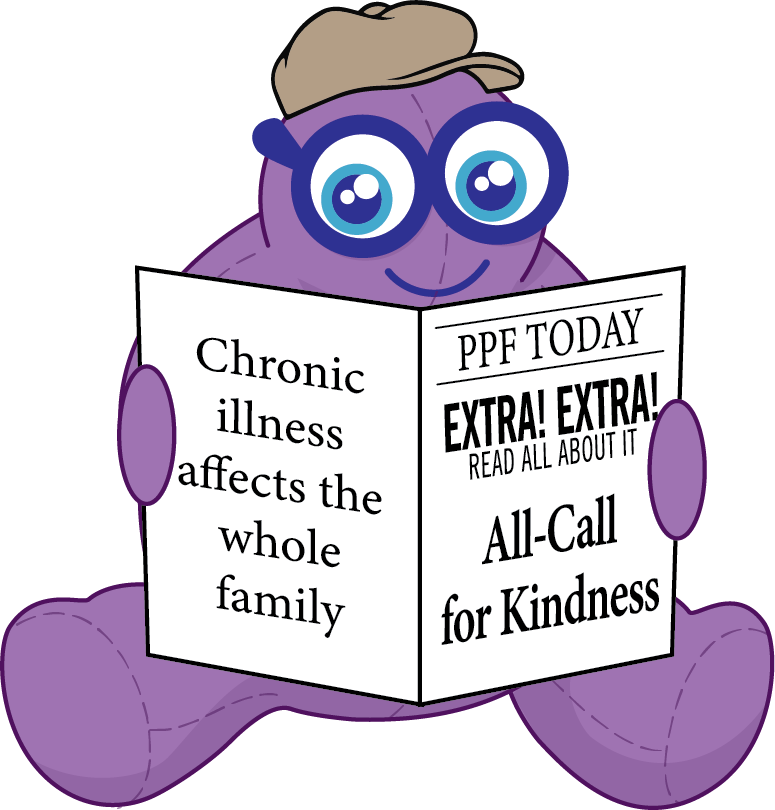 September 2021: PPF TODAY! Special Edition EXTRA! EXTRA! Read All About It…
September 2, 2021
Asher is an 11-year-old 5th grader with impeccable character! We are so proud to share his story. This kid has a huge heart and caringly shares it with many other children. Asher knows what it feels like to need help and support. He grew up with systemic on-set juvenile idiopathic arthritis (sJIA). He was diagnosed at the age of four and it took four years of many doctor appointments, weekly shots, chemo, and oral meds to get him to a place where he is now in non-medicated remission. No more meds! Wahoo!
Families dealing with sJIA build a family of other sJIA families around them because it is a rare and scary disease. The news of Asher's remission is so incredibly powerful and inspiring.
Asher remembers how he felt when he was first diagnosed. He had tons of pain, along with trouble moving his neck and walking around. But he also experienced good things, like getting involved with organizations that help children. He is especially grateful for the Arthritis Foundation and Purple Playas Foundation, and he met tons of friends at the Juvenile Arthritis Conference.
Asher loves swimming, guitar, violin, and playing video games. He proudly shared that he is quite passionate about lacrosse. He enjoys watching the sport but loves to play even more; his position is "attack". About three months ago, he received a concussion while playing. He has since been dealing with massively horrible headaches, even resulting in a hospital stay. Any time a family has to deal with chronic illness and then lands back in the hospital, it can be quite traumatic. This kiddo has handled it like a champ, and he is slowing getting some relief.
As we talked, it became even more evident that Asher is one remarkable kid whose kindness is felt by many more than he realizes. This past school year, he was a safety patrol who adored his job. He believes in doing his very best every day. He said, "It is important to be nice, talk to people and just be kind." In fact, his teacher recently nominated him for the school-wide Character Counts Award at his school. While there were many other kids nominated, he was selected to represent his school. When asked why he thinks he received such a huge award, he said, "It's because your suppose to be responsible; that you're resilient; that you are smart; that you follow the rules, and you're kind to people. They call it Character Counts." The teachers at his school took notice of his empathy, kindness, and his ability to help others problem-solve. They also felt that he deserved the award because he is positive and kind to everyone. If others are struggling, he goes out of his way to help. Asher said, "I share positive words, help people do stuff, and show support."
Asher feels you should always be kind. He knows first hand, from people supporting and helping him, that it feels good when someone is kind. Asher's advice is "always keep pushing and think about the best things that could happen." Asher's character is most definitely "chronically caring"!
Do you know an amazing kid with chronic illness who gives back to the community? You can nominate them for our Chronically Caring Kids monthly stories. Just email us at [email protected]