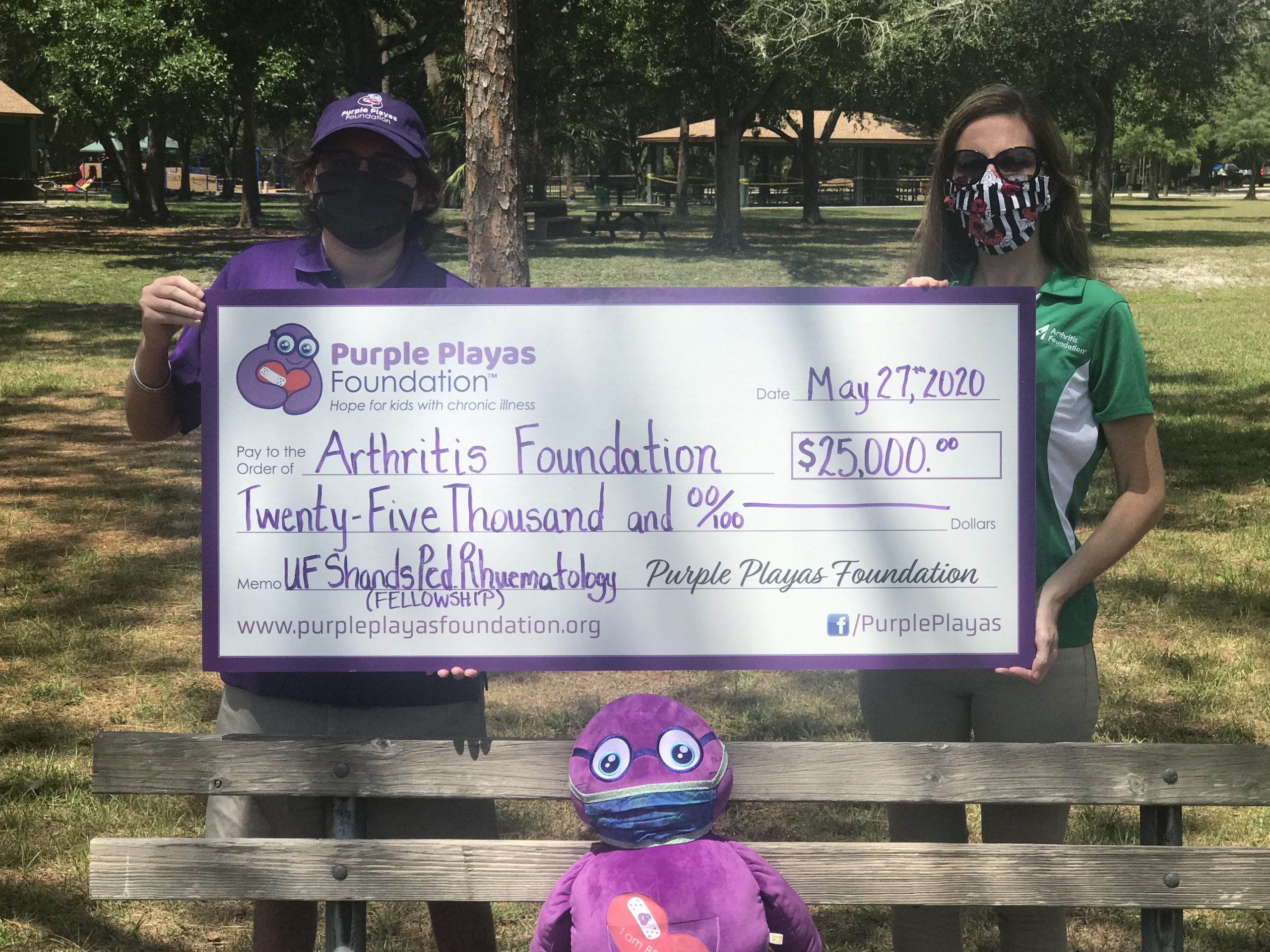 Purple Playas Foundation Announces New Pediatric Fellowship at University of Florida Awarded Through Partnership with the Arthritis Foundation
June 16, 2020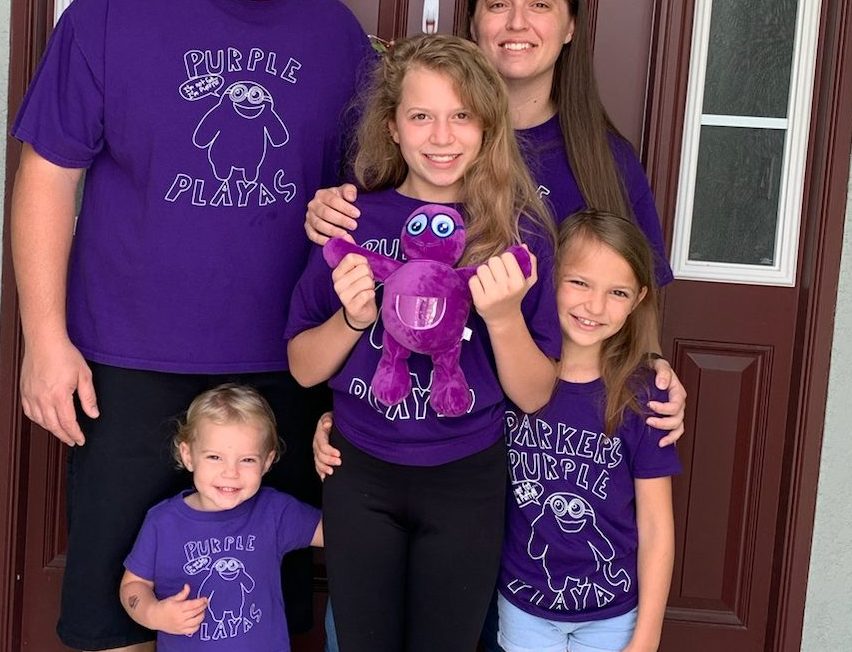 Pennies for Purple Playas
July 14, 2020
Kayla's positive energy is so contagious because after talking to her you just want to go out there and do something good. She is 18 years old and getting ready for her first year of college. She was diagnosed with Crohn's Disease  and Juvenile Arthritis  when she was 12 years old. In addition, she was diagnosed with Eosinophilic Colitis and Gastritis  at 14 years old. When interviewing Kayla, she commented that often she looks fine on the outside, but feels pretty horrible on the inside. She said many have a hard time dealing with an "invisible disease," but the pain is very real and it should not be overlooked. Kayla said, "There is the struggle of uncertainty and not knowing what is next." She shared one episode where she woke up and could not move. She couldn't even sit up and had to be taken by ambulance, with her body wrapped up on a stretcher, to the hospital. She expressed, "It is really scary not knowing if I will wake up one day and not be able to walk."
Kayla said, "Strangely enough, living with a chronic illness has given me a very positive perspective on life. I think that I don't take things for granted, and I am able to feel empathy for people who know what I am going through. And I was even able to start my own non-profit through this, Kayla Cares 4 Kids."
Kayla said, "I love to foster this community of love and support. And I try to include as many people as possible, no matter what they are going through, because I know there is always someone who needs help. And for me, giving is such a positive outlet on my life, that it makes me feel good. I know I can make others feel good too. So, I am able to get volunteers to help me with my mission and they are able to see kids who are struggling…. And then, I see those two kids connect when they are doing arts and crafts together."
She further explained that she has spent many days in the hospital and video selections are often lacking. So she just started asking for DVD donations while she was in the hospital for a long stay. She ended up collecting over 300 DVDs in three days, and from there her non-profit just grew and grew. To date, Kayla Cares 4 Kids has donated over 25,000 items to 450 medical facilities across the United States. So it is really making an impact.
One of Kayla's favorite donation locations was a mental health facility in Erie, Pennsylvania. For the patients' privacy, they could not go inside, they could only do a drop off and take a picture outside. She shared, "It was my brother's birthday and he was sad he couldn't interact with anyone. But when we flew home two days later, there was a huge box on our door step….it was full of letters from the facility." One girl had even painted a flower that now hangs in their office. The girl said that the painting represented the HOPE that they gave her through their donation.
She advises other kids to not listen to others when they comment on how weak they might be or how they can't do certain things. Kayla once had a doctor say she was "faking everything." It is important to find people and professionals who believe you and can give you proper care.
Kayla loves drawing, stretching and yoga (it helps), and plays the baritone. She feels that she sometimes cannot express herself verbally and art gives her a way to share how she is feeling. She feels that all kids need to find a way to express themselves.
If you would like to help Kayla Cares 4 Kids, they currently accept new DVDs, video games and consoles, electronics, books, crafts and hands-on activities--anything that can be used by kids in the hospital that can be wiped down and reused. Kids can even donate to their local hospitals and medical facilities on behalf of Kayla Cares 4 Kids by reaching out to Kayla ([email protected]), so she can help coordinate it.
Right now, Kayla cannot go out to medical facilities because of COVID-19 and her compromised immune system, so she would love the help in distributing donations. She is currently crafting with kids through her virtual live streams on Facebook and Instagram, where she is producing and sending video to hospitals during this time. Kayla's will to help is very strong and where there's a will, there is always a way.
Check Out Kayla Cares 4 Kids:
Website - https://kaylacares4kids.org/
Facebook - https://www.facebook.com/KaylaCares4Kids
Twitter – https://www.twitter.com/kcares4kids
Instagram – https://www.instagram.com/kaylacares4kids
YouTube – https://www.youtube.com/user/kaylacares4kids
Virtual Live Streams - #KC4KVirtualFun
In the News - https://kaylacares4kids.org/news/
Contact – [email protected]
Pam Sanders, Tampa General Hospital Vice President of Women and Children's Services, hugs Kayla Abramowitz, 13, with her parents Michael and Andrea Abramowitz and brothers Ben, 12, and Ethan, 10, made a donation of an Xbox, games, books, DVD movies and puzzles to the Children's Medical Center at Tampa General Hospital on Wednesday, Dec. 30, 2015. Kayla founded the non-profit organization to donate entertainment and education items to children's hospitals and Ronald McDonald House locations across the country. To date, she has donated about 10,000 items to over 80 locations in 50 states. For more information on her efforts, visit www.kaylacares4kids.org. Pictured, from left, are patient Shane Kaufman, 10, TGH child life specialist Kirsten Hunt, Pam Sanders, Tampa General Hospital Vice President of Women and Children's Services, Ethan Abramowitz, 10, mother Andrea Abramowitz, Ben Abramowitz, 12, and father Michael Abramowitz.